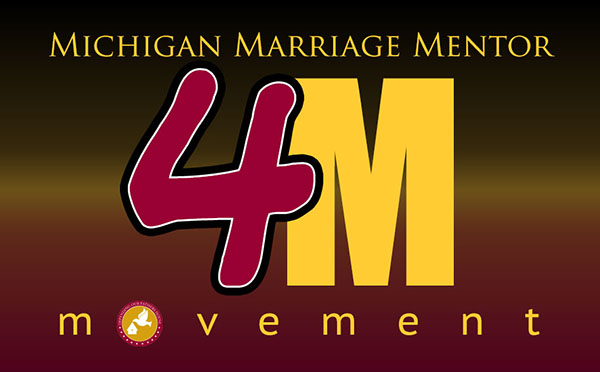 MICHIGAN MARRIAGE MENTOR MOVEMENT (4M for MARRIAGE)
America has always depended on people who stand up for a noble cause and commit themselves in numerous small, heroic ways to serve that higher purpose and achieve a vital common goal, like winning a war as America's men and women did during World War II by sacrificing together. Patriot Americans are needed more than ever to take back our families and our homeland. Reestablishing the legal and institutional integrity of marriage and family life is the mission of
Defending Our Father's House
(DOFH)
, a sure way for Metro Detroiters and for Americans everywhere to
unite
our regions and our nation to reverse its spiraling descent and become great once again at home in our households and throughout our communities. You can help. Read More
Ending Metro Detroit's Broken Family Pandemic.
We seek heroic missionaries for marriage and family life who will unite to defend children and their communities. (Read More about America's broken marriage & family crisis:
Community Marriage Policies Answer a Vital Need
). Please commit to ask your clergy and faith leaders to sign up below to view or attend a presentation about marriage mentoring in houses of worship for clergy and other faith leaders. Clergy of all faiths can join this
Michigan Marriage Mentor Movement
(4-M). Request a commitment from them to learn more or to
implement
Marriage Mentor Ministry in your congregation now if they are already committed. While clergy and mentors will need an orientation and training to witness the fruits of marriage, the time commitment is very modest. Clergy, pastors, and other faith leaders are natural champions for strong, healthy marriages and families. We expect they will welcome and celebrate opportunities to take part in this effort to secure and empower our children, families and communities for generations to come.
Right now, we are building coalitions of committed leaders and missionaries for marriage and family life in Metro Detroit and beyond to galvanize this effort to protect children and to safeguard and strengthen marriages, families, houses of worship, and communities with mentoring methods that reliably contribute to strong and lasting marriages and healthy, workable households.
Please link church leaders with DOFH leadership by providing contact information for them and for yourself that includes name, occupation or skill areas, e-mail, cell and home phone numbers on this OUTREACH page. As we identify, enroll, educate and energize our clergy and lay faith leaders, marriage mentors and other marriage and family stakeholders, we can and will steadily advance the work of rebuilding and strengthening our nation one marriage at a time.
Please provide contact information for you and your clergy leader: